Comentarios oficiales del Diálogo para la Cumbre de las Naciones Unidas sobre los Sistemas Alimentarios de 2021
Última actualización:
Descargar PDF
Tipo de diálogo
Independiente
Convocado por
Claudia Ringler and Yumna Kassim, International Food Policy Research Institute (IFPRI)
Idioma del Diálogo
English (Arabic translation available for plenary sessions)
Formato
Virtual
Por favor revise los detalles que encontrará más abajo para obtener información sobre cómo registrarse en el caso de que esté disponible o contacte al convocante si le gustaría asistir.
Administrador
Clemens Breisinger (IFPRI), Amgad Elmahdi (IWMI), Ajit Govind and Chandrashekhar Biradar (ICARDA)
Descripción
Water scarcity remains a key challenge for agricultural development in the MENA region, including Egypt. Scarcity is rapidly growing as a result of climate change and rapid increases in water demand for other uses. Considering that Egypt's agri-food system provided critical cushioning for economic growth, jobs, and household income negatively impacted by the COVID-19 pandemic, it is paramount that more consideration is given to the important role of water security for Egypt's food systems. With agriculture utilizing over 80% of Egypt's water resources, meeting these challenges will require bold actions and new mindsets directed at water and food systems transformations to achieve the Sustainable Development Goals.
This Independent Dialogue convened in partnership between the International Food Policy Research Institute (IFPRI), the International Water Management Institute (IWMI) and the International Center for Agricultural Research in the Dry Areas (ICARDA) will discuss the Role of Water Security for Food Systems Transformation in Egypt. Stakeholders will engage in interactive group discussions, collective brainstorming, and agenda-setting with a focus on equity, inclusion, capacity, innovation, and sustainability, including insights on how food systems need to change to improve water security (SDG 6), help eliminate hunger (SGD2), support energy security (SDG 7) and improve climate adaptation and mitigation action (SDG 13). Emerging messages from this multi-stakeholder dialogue will be presented at the United Nations Food System Summit (UNFSS) in September 2021. Transforming #foodsystems is among the most powerful ways to make progress towards all 17 SDGS.
Agradecimiento
CGIAR Research Program on Water, Land and Ecosystems.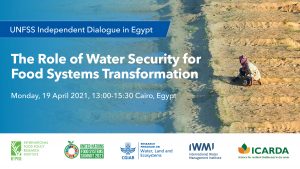 Créditos de la imagen: International Food Policy Research Institute