Tipo de diálogo
Independiente
Convocado por
Judit Varga, Heroes of Responsible Dining (Felelős Gasztrohős Alapítvány)
Idioma del Diálogo
Hungarian
Enfoque geográfico
Hungary
Formato
Virtual
Por favor revise los detalles que encontrará más abajo para obtener información sobre cómo registrarse en el caso de que esté disponible o contacte al convocante si le gustaría asistir.
Administrador
Eszter Szabó
Descripción
Register for the event and share your thoughts, experiences and ideas about the relationship between restaurants and local producers! We'll discuss the opportunities and barriers of having more local products in Hungarian restaurants with chefs, producers, and representatives of expert groups.
Tell us how you think the situation has changed as a result of the coronavirus, how the marketing value of local ingredients could be increased, or how you could contribute to this common goal! We wonder what regulations you think can make local sourcing easier.
Register here: https://forms.gle/GyENRZw75hPvbBGP8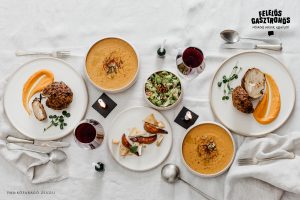 Créditos de la imagen: Zsuzsa Kőfaragó