Comentarios oficiales del Diálogo para la Cumbre de las Naciones Unidas sobre los Sistemas Alimentarios de 2021
Última actualización:
Descargar PDF
Tipo de diálogo
Independiente
Convocado por
Shirley Tarawali, Assistant Director General (International Livestock Research Institute, ILRI) and Chair (Global Agenda for Sustainable Livestock, GASL)
Idioma del Diálogo
English with simultaneous interpretation in French and Spanish
Ciudad
Rome, Metropolitan City of Rome, Italy
Enfoque geográfico
No borders
Formato
Virtual
Por favor revise los detalles que encontrará más abajo para obtener información sobre cómo registrarse en el caso de que esté disponible o contacte al convocante si le gustaría asistir.
Administrador
Eduardo Arce-Diaz (Manager, Global Agenda for Sustainble Livestock); Michael Victor (head of communications and knowledge management, International Livestock Research Institute)
Descripción
This dialogue seeks to engage and harness the diversity of both livestock sector stakeholders (taking advantage of the global spread and multi-stakeholder nature of the Global Agenda for Sustainable Livestock, GASL) and those who are not directly engaged with livestock – from development agencies and practitioners to food sector actors and beyond. It will draw participants from all over the world, from pastoralists and farmers of all capacities who produce food to those who process, market and research food and wider food system dimensions.

The dialogue will facilitate new conversations to identify the pathways of change and diverse solutions that are needed to ensure that livestock contributes across all action tracks and levers of change to future food systems.
Short, plenary interventions touching on future visions for livestock roles in relation to food, environment and broad sustainability dimensions will inspire discussion groups who will explore inclusive and complementary actions towards each of the five action tracks.
Agradecimiento
Global Agenda for Sustainable Livestock: Shirley Tarawali (chair), Eduardo Arce-Diaz (manager) International Livestock Research Institute: Jimmy Smith (director general), Shirley Tarawali (assistant director general) Global Alliance for Climate-Smart Agriculture: Hans Hoogeveen (co-chair); Lindiwe Sibanda Majele (co-chair); Simon Leiva (coordinator).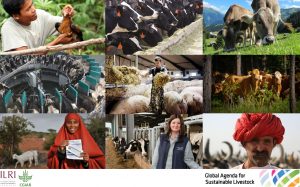 Créditos de la imagen: LtoR; top:World Bank/ Chhor Sokunthea/USDA/Wikinut/mid:AgriExpo/Farmers' Weekly/California State University at Chico/bottom: Riccardo Gangale, ILRI/Askham Bryan College/ICARDA