Comentarios oficiales del Diálogo para la Cumbre de las Naciones Unidas sobre los Sistemas Alimentarios de 2021
Última actualización:
Descargar PDF
Tipo de diálogo
Independiente
Convocado por
John Aggrey - Founder & CEO, HIRED Consult
Idioma del Diálogo
English
Enfoque geográfico
No borders
Formato
Virtual
Por favor revise los detalles que encontrará más abajo para obtener información sobre cómo registrarse en el caso de que esté disponible o contacte al convocante si le gustaría asistir.
Administrador
Esther Wanza - UNMGCY  Regional Youth Focus Point for Africa, in support of UNFSS
Descripción
The continent is facing a looming food crisis, in addition to the health and economic crisis. Prior to COVID19, Africa was already home to more than 70% of the world's poorest people, and 55% of the world's hungry.
The current state of African agri-food systems is the root of the disruptions to food security during the COVID19 pandemic, leaving farmers, traders, consumers and their governments highly vulnerable to disruptions.
On the backdrop of this, HIRED Consult convenes a Food System Dialogue on the theme, "Maintaining Functionalities By Building Resilience to Vulnerabilities"
The objective of this African Food Systems Dialogue (Action Track #5) is to:
Create an enabling platform for individuals and institutions engaged in the functioning and governance of food systems are empowered to prepare for, withstand, and recover from instability and participate in a food system.
Demand for a comprehensive approach that integrates responses to climate, biodiversity loss, conflict, epidemics, economic crises, food insecurity and malnutrition and structural inequalities.
The purpose of these dialogues and discussions is to contribute to the overall preparation of the Food Systems Summit and by the end of the Dialogue period, Stakeholders ( youth activists, indigenous leaders, smallholder farmers) and Participants will have identified the practices and policies that will have the greatest impact on the achievement of the desired future vision within their local food systems.
Interested Participants can join BUT registration is REQUIRED: REGISTER
Agradecimiento
The Ghana Civil Society (CSO) Platform on Sustainable Development Goals (SDGs), UNFSS Secretariat, UN MGCY, YOUNGO, Kenya Climate Innovation Centre, African Youth Commission.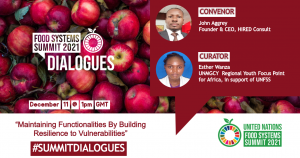 Créditos de la imagen: UNFSS