Comentarios oficiales del Diálogo para la Cumbre de las Naciones Unidas sobre los Sistemas Alimentarios de 2021
Última actualización:
Descargar PDF
Tipo de diálogo
Independiente
Convocado por
International Plant Protection Convention (IPPC) Secretariat, International Year of Plant Health (IYPH) International Steering Committee
Idioma del Diálogo
English
Ciudad
Viale delle Terme di Caracalla, 10, 00153 Roma RM, Italy
Enfoque geográfico
No borders
Formato
Virtual
Por favor revise los detalles que encontrará más abajo para obtener información sobre cómo registrarse en el caso de que esté disponible o contacte al convocante si le gustaría asistir.
Administrador
IPPC Secretariat
Descripción
The IPPC Secretariat presents the IYPH Webinar Series: paving the path to the International Plant Health Conference 2022. The International Steering Committee (ISC) of the International Year of Plant Health (IYPH) recommended at their 14th meeting that the first International Plant Health Conference (IPHC) should take place in the week of 9 to 13 May 2022, since the COVID-19 pandemic cause its cancellation in 2021. The IYPH Webinar Series aims at building a path leading to the IPHC in 2022 together with the IPPC community, aligning with the IPPC Strategic Framework 2020 – 2030, recently adopted by the Commission on Phytosanitary Measures (CPM).
This series of virtual events wish to engage the international community on the importance of plant health after the IYPH comes to an end and to support the potential declaration of the International Day of Plant Health on 12 May each year by the United Nations General Assembly at the end of 2021.
The first event of the IYPH Webinar Series is going to take place virtually on 29 June 2021 on the link between food systems and plant health, as an Independent Dialogue of the United Nations Food Systems Summit. This topic aligns with the IPPC Strategic Framework 2020 – 2030 and its Development Agenda, thus providing some initial inputs towards its implementation.
Agradecimiento
IPPC Secretariat, IYPH International Steering Committee.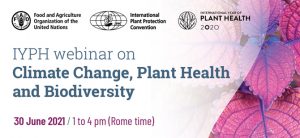 Créditos de la imagen: IPPC Secretariat