Tipo de diálogo
Estado miembro
Convocado por
Mr. Raphibhat Chandarasrivong, Deputy Permanent Secretary, Ministry of Agricultural and Cooperatives. / Dr. Piroj Saonuam, Thai Health Promotion Foundation of Thailand
Idioma del Diálogo
Thai with English intepretation.
Enfoque geográfico
Thailand
Formato
Virtual
Por favor revise los detalles que encontrará más abajo para obtener información sobre cómo registrarse en el caso de que esté disponible o contacte al convocante si le gustaría asistir.
Administrador
Dr.Vanida Khumnirdpetch, Director, Bureau of Foreign Agricultural Affairs, Ministry of Agriculture and Cooperatives, Thailand
Descripción
Healthy diets are a key outcome of sustainable food systems.   The aspect of  health is the health of people and the planet.   This includes malnutrition in all forms, namely undernutrition (wasting, stunting, underweight), inadequate vitamins or minerals, overweight, obesity, and resulting diet-related noncommunicable diseases (NCDs).   It also includes reducing food loss nas waste, to increase efficiency and reduce greenhouse emission.
Ministry of Agriculture and Cooperatives, Thailand together with the Thai Health Promotion Foundation National and World Vegetable Center are in line to promote healthy diets and a healthy planet.   This dialogue is one among other activities to celebrate The International Year of  Fruits and Vegetables 2021.   In order to understand how food system operate and  how intervention is needed, we select vegetable as a case study to explore how new policy can be beneficial for national food system.    We will identify how to collaborate and integrate works between agriculture, food and health of the people and the planet.
The objectives of this dialogue are:
to inform the urgency and challenges to transform national food system by both producer and consumer.
to raise awareness for public participation in transforming national food system.
to identify and coordinate future policies and action with relevant organization nationally and internationally.
Agradecimiento
Department of Agricultural Extension (Ms.Jirapa Jomthaisong) Department of Agriculture (Mr.Amnuai Adthalungrong), World Vegetable Center, Bangkok (Dr.Delphine Larrousse, Dr.Jodi Harris).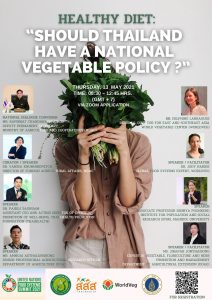 Créditos de la imagen: ฺีBureau of Foreign Agricultural Affairs, Ministry of Agriculture and Cooperatives, Thailand.