Comentarios oficiales del Diálogo para la Cumbre de las Naciones Unidas sobre los Sistemas Alimentarios de 2021
Última actualización:
Descargar PDF
Tipo de diálogo
Independiente
Convocado por
UN Department of Economic and Social Affairs
Idioma del Diálogo
English with captioning in English, French and Spanish
Ciudad
823 United Nations Plaza, New York, NY 10017, USA
Enfoque geográfico
No borders
Formato
Virtual
Por favor revise los detalles que encontrará más abajo para obtener información sobre cómo registrarse en el caso de que esté disponible o contacte al convocante si le gustaría asistir.
Administrador
Ms. Ariel Alexovich, UN DESA
Descripción
Eradicating hunger and achieving food security remain major challenges for people everywhere. To support the UN system's efforts towards eliminating hunger, securing decent work and achieving the SDGs, UN DESA is holding a Global Policy Dialogue on food system livelihoods in the context of demographic change and rural development.
Internationally renowned experts and professionals on food systems, population trends and rural development will be invited to join as panelists to discuss this urgent and multidimensional issue. The event also will serve as a Food Systems Summit Dialogue aligned with Action Track 4—Advance Equitable Livelihoods and Value Distribution, giving participants an opportunity to contribute to designing the food systems of the future by informing the Summit process.
Register for the Zoom event here by 15 December or watch live on UN DESA's Facebook page.
Agradecimiento
International Fund for Agricultural Development.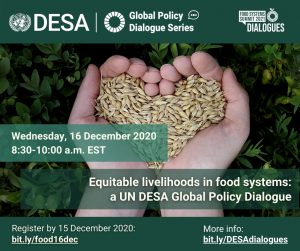 Créditos de la imagen: UN DESA