Comentarios oficiales del Diálogo para la Cumbre de las Naciones Unidas sobre los Sistemas Alimentarios de 2021
Última actualización:
Descargar PDF
Tipo de diálogo
Independiente
Convocado por
Prof. Adipala Ekwamu, Executive Secretary Regional Universities Forum for Capacity Building in Agriculture (RUFORUM)
Idioma del Diálogo
English
Ciudad
17 University Rd, Kampala, Uganda
Enfoque geográfico
No borders
Formato
Virtual
Por favor revise los detalles que encontrará más abajo para obtener información sobre cómo registrarse en el caso de que esté disponible o contacte al convocante si le gustaría asistir.
Administrador
Prof. George Kanyama Phiri, Vice Chancellor LUANAR; Board Chair RUFORUM
Descripción
RUFORUM Vice-Chancellors agree that the strategies, priority actions and targets for monitoring and evaluating progress in food systems transformation in Africa must be co-designed and co-owned. African universities working in partnership with local, national and international partners and civil society, while keeping in mind the ambitions of governments. All citizens must benefit especially smallholder producers, fishers, livestock keepers, SMES, rural communities, women and youth. Geographic isolation, gender, and other inequalities including lack of modern infrastructure that limit access to knowledge, technology, finance and markets, and hinder development must be comprehensively addressed.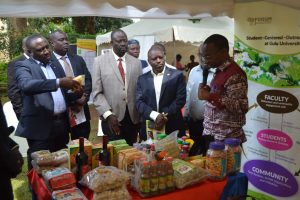 Créditos de la imagen: RUFORUM Communications Unit