Comentarios oficiales del Diálogo para la Cumbre de las Naciones Unidas sobre los Sistemas Alimentarios de 2021
Última actualización:
Descargar PDF
Tipo de diálogo
Estado miembro
Convocado por
HE Sok Silo, Secretary General, Council for Agricultural and Rural Development.
Idioma del Diálogo
Khmer with English translation
Ciudad
Phnom Penh, Cambodia
Enfoque geográfico
Cambodia
Formato
Virtual
Por favor revise los detalles que encontrará más abajo para obtener información sobre cómo registrarse en el caso de que esté disponible o contacte al convocante si le gustaría asistir.
Administrador
Mr Nea Chamnan, Council for Agricultural and Rural Development
Descripción
Home Grown School Feeding and the Food System
A food system comprises all the elements (environment, people, inputs, processes, infrastructures, institutions, etc.) and activities related to the production, processing, distribution, preparation and consumption of food, and the outputs of these activities, including socio-economic and environmental outcomes.  A sustainable food system delivers food security and nutrition for all in such a way that the economic, social and environmental bases to generate food security and nutrition for future generations are not compromised.
Home Grown School Feeding is a school feeding model that is designed to provide children in schools with safe, diverse and nutritious food, sourced locally from smallholders, thereby supporting local agricultural production and processing and providing an ongoing market for the farmers. Home Grown School Feeding programmes have multiple benefits across food systems and support a number of SDGs, directly supporting increased access to nutritious food for children, as well as providing support to actors across food value chains.
By buying local, home-grown school feeding programmes have the potential to not only create demand for more diverse and nutritious local and traditional food, but also create stable markets, boost local agriculture, impact rural transformation and strengthen local food systems – 'from the farm to the fork'.
Benefits of Home-Grown School Feeding Programmes
Help to fight child hunger and address the triple burden of malnutrition for children: By improving the quality of food for children, diversifying their diets and teaching them how to eat better, HGSF can support healthier lives for children.
Contribute to child development: When linked to nutrition and education, well-designed, equitable school feeding programmes contribute to child development through increased years of schooling, better learning and improved nutrition, particularly for girls.
Increase demand for healthy and nutritious foods: Nutritious and diversified meals received at school can contribute towards shaping children's tastes and preferences and shape future demand for healthy and nutritious foods. Nutrition behaviours learnt in school can have a lifetime impact for children, their families and communities.
Promote increased production of nutritious foods: School menus and dietary guidelines can provide guaranteed demand for heathy and nutritious food for farmers, thereby increasing the availability of nutritious food in the entire community and supporting new markets.
Support the entire value chain and promotes women's livelihoods: Home-grown school feeding programmes that procure food locally can offer additional benefits for smallholder farmers, supporting local food production and economies, and promoting sustainable local markets for diverse, nutritious foods, especially for women.
Help tackle climate change:  HGSF can result in short and sustainable food chains from smallholder farmers, increasing local incomes and promoting fresh foods.
A game changer for girls and women: HGSF is a game changer for children (girls in particular) who benefit from being healthier and educated, for farmers who can have access to more stable markets, for women who can establish small businesses providing services to the programmes, and for the community as a whole.
In 2014, after 15 years of school meals operations in Cambodia,  the government and WFP identified the HGSF model of school feeding as a sustainable way to link meal provision in schools to local community development by stimulating agricultural growth, increasing food security, and improving nutritional status through the purchased and used of locally produced food, thereby benefiting both school children and farmers.
Recognizing these multiple benefits of HGSF for  supporting human capital development and local food systems, the Royal Government of Cambodia has also invested in a national HGSF programme, which commenced in 2019 and currently provides hot nutritious meals through locally procured menus, initially to 54,000 school children in 205 schools (in addition to the 908 schools supported by WFP) across the country.
An in-depth exploration – School Feeding as a Platform to Enhance Local Food Systems
WFP Cambodia in collaboration with the Ministry of Education, Youth and Sport (MoEYS) and CARD will organize an in-depth dialogue to identify opportunities for HGSF to be a gamechanger in contributing across the food system in Cambodia.  The dialogue will bring together representative ministries from both national and sub-national level, as well as Development Partners supporting home grown school feeding and food systems in Cambodia. The discussion will focus on the following areas of inquiry:
How can HGSF best fight child hunger and address triple burden of malnutrition in Cambodia?
How could HGSF procurement models in Cambodia better contribute to building stronger nutritious value chains?
What coordination mechanism would best lead to maximizing the impacts of HGSF across the food system in Cambodia? Who should be involved and how?
How can HGSF programme best promote women's participation in the food value chain including nutritious food production and broader access to sustainable markets?
Agradecimiento
The Council for Agricultural and Rural Development, The Ministry of Education, Youth and Sport and the World Food Programme.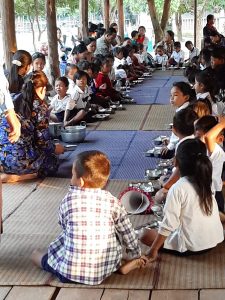 Créditos de la imagen: @Iean Russell