Tipo de diálogo
Independiente
Convocado por
Somalia's National Development Research Center
Idioma del Diálogo
English
Enfoque geográfico
Somalia
Formato
Virtual
Por favor revise los detalles que encontrará más abajo para obtener información sobre cómo registrarse en el caso de que esté disponible o contacte al convocante si le gustaría asistir.
Administrador
Focal person of the Somalia Ministry of Agriculture and Irrigation, and RUFORUM
Descripción
The Dialogue will start with background to the UN Food Systems Summit 2021 and National and Regional Dialogues. Analysis of the main factors affecting agriculture and food systems in Somalia. Furthermore, the current situation and issues affecting agriculture and food systems in Somalia. Panelists will give their perspectives on how to deal with emerging challenges, such as climate change and environmental degradation, for addressing post-harvest losses, adding value and improving the nutritional quality of food for different market niches, on changing Human Demography and implications for Agriculture and Food Systems; make agriculture attractive to youth.in addition to that, they will  discuss their prospects for human capital development and research needs for Somalia, for promoting inclusion and meeting the needs of small farmers and opportunities for those marked Perspective on political issues needed to strengthen food system interventions in Somalia. Finally, Summary of emerging issues and recommendations for consideration by the SOMALIA government
Agradecimiento
RUFORUM and Pre-UN Food Systems Dialogue Organizers.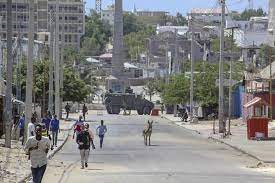 Créditos de la imagen: Mogadishu