Comentarios oficiales del Diálogo para la Cumbre de las Naciones Unidas sobre los Sistemas Alimentarios de 2021
Última actualización:
Descargar PDF
Tipo de diálogo
Independiente
Convocado por
Rare China Center for Behavior / 瑞尔行为中心, Co-Convenor: WWF International; Good Food Fund (UNFSS Action Track 2 China Action Hub )
Idioma del Diálogo
English, Mandarin
Enfoque geográfico
China, No borders
Formato
Virtual
Por favor revise los detalles que encontrará más abajo para obtener información sobre cómo registrarse en el caso de que esté disponible o contacte al convocante si le gustaría asistir.
Administrador
Shiyang Li, Rare China Center for Behavior / 瑞尔行为中心
Descripción
ENGLISH: Food waste reduction offers multi-faceted wins for people and planet, improving food security, addressing climate change, saving money and reducing pressures on land, water, biodiversity and waste management systems.
In April 2021 China's National People's Congress passed a new 'Anti-Food Waste Law', which marks another important milestone in China's continued focus on reducing food waste. In light of this, how can behavior insights accelerate the adoption of solutions and implementation of the law?
The purpose of the dialogue is to develop a collaborative call to action among stakeholders from across the food chain, identifying current opportunities and challenges in reducing food loss and waste in China and across the world. The dialogue will also surface bright spots to reduce food waste by utilizing behavior insights in key intervention areas.
This event will be translated into both English and Mandarin.
For more information contact: [email protected]
普通话: 减少食物浪费将为人类和地球带来多方面好处,包括改善食品安全、应对气候变化、节约资金以及减少对土地、水、生物多样性和废物管理系统的压力。
2021年4月,全国人大常委会通过了新的《反食品浪费法》,这标志着中国在减少食物浪费的一个重要里程碑。有鉴于此,行为科学和工具如何更有效减少食物浪费,促进法律的顺利实施?
此次对谈,我们将邀请在食物供应链各个关键行动领域的利益相关者共同发出行动倡议,探讨中国和全球其他国家在减少确定中国和全世界在减少食物损失和浪费方面的机遇和挑战。对话还将展示展示和传播运用行为科学及工具撬动减少食物浪费的行为改变的国内和国际优秀实践。
更多信息请联系: [email protected]
Agradecimiento
UNFSS-AT2 China Action Hub, Good Food Fund (CBCGDF).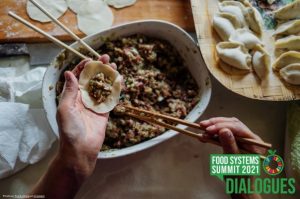 Créditos de la imagen: Photo by Frank Zhang on Unsplash