Comentarios oficiales del Diálogo para la Cumbre de las Naciones Unidas sobre los Sistemas Alimentarios de 2021
Última actualización:
Descargar PDF
Tipo de diálogo
Independiente
Convocado por
Lisanne van Oosterhoud (World Food Forum Youth Champion), Setyaki Kusumadireja (YOUNGO)
Idioma del Diálogo
English
Enfoque geográfico
No borders
Formato
Virtual
Por favor revise los detalles que encontrará más abajo para obtener información sobre cómo registrarse en el caso de que esté disponible o contacte al convocante si le gustaría asistir.
Administrador
Samuel Adunreke (Founder Innovea Development Foundation, Nigeria)
Descripción
Our current food system is in desperate need of a transformation, one that requires a multi-sector and multi-stakeholder approach and in which partnership is crucial. It faces many problems, including environmental (soil damaging), social (exclusion, poverty), health (labor), and economic (injustice, fair prices). In many countries, people still work far below average payment in harsh environments.
In addition, the world food system is faced with increasing demand and many disruptive forces, such as environmental constraints and deteriorating soil conditions.
Technology could serve a role in supporting this transformation towards more resilient food systems and enough food for all. Using technological innovation in support of food system transition could reduce producers' workload and labor intensiveness, and improve their resilience to stressors. It could also bring local food systems closer to people, help close the gap between farm and fork, and bring the market to distant producers.
However, how to prevent overexploitation from small-holder farmers with expensive technology, make technology accessible for all, and lower user-reluctance? What role could community-supported technology hubs or community-supported agriculture play in this and how to prevent technology from becoming the goal instead of the means?
By bringing together stakeholders from within and outside of the agrifood technology community, the dialogue seeks to identify innovative and diverse solutions for inclusive and accessible agritech  – solutions that could be useful for shaping more sustainable food systems worldwide.
If you are interested in joining, please register via this link: https://forms.gle/o5mtYN43psgBa8t49
Agradecimiento
Joshua Amposem (Founder of GAYO and a Youth Fellow at the GCA), Vositha Wijenayake (Executive Director of SLYCAN Trust), Jacqueline van Oosten (Innovation for AgTech program manager), Ron Tan (CEO PRC GLOBAL LIMITED), Guido Gallo (Agricultural engineer University of Buenos Aires), Saba Loftus (Senior Philanthropy & Sustainability Manager), Charlotte Nederpel (MSc in Green Life Sciences), Fons Janssen (EU Climate Pact Ambassador, European Youth Energy Network), Möge Coeteli, Frederico Bert (Ilca).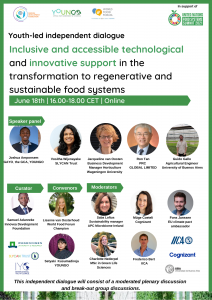 Créditos de la imagen: Lisanne van Oosterhoud