Comentarios oficiales del Diálogo para la Cumbre de las Naciones Unidas sobre los Sistemas Alimentarios de 2021
Última actualización:
Descargar PDF
Tipo de diálogo
Independiente
Convocado por
Angela Genoni PhD, Nutrition & Research Development Lead, Doctors For Nutrition
Idioma del Diálogo
English
Ciudad
Brisbane QLD, Australia
Enfoque geográfico
Australia
Formato
Virtual
Por favor revise los detalles que encontrará más abajo para obtener información sobre cómo registrarse en el caso de que esté disponible o contacte al convocante si le gustaría asistir.
Administrador
Alicia Temple, Communication & Partnerships Lead, Doctors For Nutrition
Descripción
A review of the 2013 Australian Dietary Guidelines (ADGs) is currently underway; expected release is early 2024. They are only updated once every decade.
Poor nutrition is a leading cause of disease and early death in Australia. As in other high-income nations, the crux of the issue is the over-consumption of animal-sourced and processed foods, and corresponding low intake of whole plant foods. Our per capita consumption of meat and dairy is 110 kg and 219 kg per year, significantly exceeding the global averages of 43 kg and 90 kg respectively. Meanwhile, only 5% of Australians have an adequate daily intake of vegetables.
Despite Australia's relatively small population of 25 million people, it is estimated that more than 4.9 billion land and aquatic animals are killed annually to support our food supply.
As well as protecting individual and public health, a dietary shift is an essential prerequisite to stepping back from many of the environmental tipping points and planetary boundaries that we are currently approaching or exceeding. Recent modelling has shown that, even with full adherence with the current ADGs, Australia would fall short of global targets on climate change and land use change, as well as the sustainable development goals and planetary boundaries related to freshwater use and nitrogen pollution.
Doctors For Nutrition, an independent Australian registered health-promotion charity, view our ADGs as an important lever for attaining a healthy and sustainable food system in Australia. To ensure their success we urgently need to consider:
What do truly sustainable ADGs look like?
What are the existing barriers to implementation and how can we overcome them?
What fresh ideas can we consider to drive multi-sectoral implementation?
Our 2hr 15min dialogue will be a meeting of the brain trusts across our food system from researchers, private sector decision makers, and other key stakeholders. It will provide the opportunity to re-imagine the potential our ADGs have to connect personal and public health with global sustainability. The outcomes will be pertinent to many other high-income countries.
We cannot afford to wait another 10 years to make these changes!
Participation is by invitation only. Please contact [email protected] for further information.
Agradecimiento
Thanks to our keynote speakers: Dr Sandro Demaio (CEO VicHealth), Prof Boyd Swinburn (School of Population Health, University of Auckland), Dr Shireen Kassam (Haematologist and Honorary Senior Lecturer at King's College Hospital).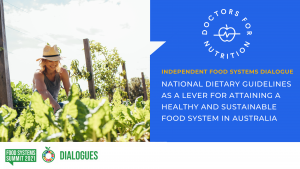 Créditos de la imagen: Doctors For Nutrition