Comentarios oficiales del Diálogo para la Cumbre de las Naciones Unidas sobre los Sistemas Alimentarios de 2021
Última actualización:
Descargar PDF
Tipo de diálogo
Independiente
Convocado por
Dr Sarada Prasad Mohapatra & Ntiokam Divine, GCSAYN
Idioma del Diálogo
English hindi French spanish odia
Ciudad
Bhubaneswar, Odisha, India
Enfoque geográfico
No borders
Formato
Virtual
Por favor revise los detalles que encontrará más abajo para obtener información sobre cómo registrarse en el caso de que esté disponible o contacte al convocante si le gustaría asistir.
Administrador
CSAYN Global
Descripción
This dialogue will be convened in 4 major theme covering Youth, Women, Technological approach and Value Chain in Food System. Also it focused on the empowerment of women and rural youth in the field of Sustainable Agriculture and Food Security. 
Agradecimiento
CSAYN Global(Ntiokam Divine).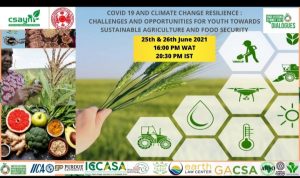 Créditos de la imagen: Narasingha Choudhury Autonomous College Jajpur Odisha India