Comentarios oficiales del Diálogo para la Cumbre de las Naciones Unidas sobre los Sistemas Alimentarios de 2021
Última actualización:
Descargar PDF
Tipo de diálogo
Independiente
Convocado por
Ms Jessica Mmola, Ms Nomhle Tshisela & Mr Letso Palai
Idioma del Diálogo
English
Enfoque geográfico
Botswana
Formato
Virtual
Por favor revise los detalles que encontrará más abajo para obtener información sobre cómo registrarse en el caso de que esté disponible o contacte al convocante si le gustaría asistir.
Administrador
Ms Jessica Mmola & Ms Nomhle Tshisela
Descripción
Botswana like many African countries is home to a wide variety of indigenous – mostly drought tolerant and pest & disease resistant foods. Yet, for a very long time – alternative and indigenous foods have been neglected. Although indigenous foods are adapted to their natural environment and their yield is contingent upon drastic climate changes; there's an opportunity to benefit from their resilience and abundance to establish a nutritional value chain to combat malnutrition and non-communicable diseases (NCDs).
The objectives of the conversation are to explore ideas to make the food system more nutritious, dependable and lucrative using these foods by bringing forward solutions that are: involving more agri-tech to make processes from farm to fork faster and more efficient, climate friendly and sustainable.
What if we could transform our food systems by taking charge of how we produce specific kinds of food that our natural climate can give us sustainably?
Agradecimiento
Mrs Kefilwe Moalosi - AUDA-NEPAD, Ms Tebogo Leepile University of British Colombia, Mr Selalelo Mpotokwane - NFTRC, Mr Unyime-Abasi Ben & Mr Gabriel Rockwell.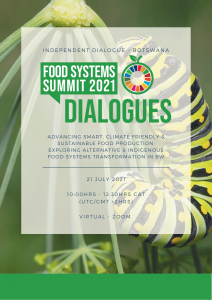 Créditos de la imagen: Stanbalik