Comentarios oficiales del Diálogo para la Cumbre de las Naciones Unidas sobre los Sistemas Alimentarios de 2021
Última actualización:
Descargar PDF
Tipo de diálogo
Independiente
Convocado por
Community Action For Food Security, and Climate Smart Agriculture Youth Network
Idioma del Diálogo
English
Formato
Virtual
Por favor revise los detalles que encontrará más abajo para obtener información sobre cómo registrarse en el caso de que esté disponible o contacte al convocante si le gustaría asistir.
Administrador
Azeez Salawu, Executive Director, Community Action For Food Security
Descripción
It is no news how the world strives to achieve food suffiency and accessibility, and Nigeria as a country is not excluded. Food systems in Nigeria are highly crucial in ensuring sustainable production and supply of food that are safe, affordable and also accessible to her teeming population. The Covid-19 pandemic coupled with the climatic disruption experienced in 2020 posed enough threats to the food system across the value chain especially the small scale farmers production, processing and access to market which resulted in hike in food prices. Thus, there is an urgent need to address better, inclusive and sustainable food systems in Nigeria.
The dialogue aims to bring together top impact leaders, key influencers, multi-stakeholders and dynamic scholars, Public and Private sectors, Non-Governmental and Civil Society Organizations working collectively on improving the food systems in Nigeria. The objective of this event is to spark up critical discussions, inspire, engage, network, connect and also form a formidable partnership that will be based on investing in Food and Nutrition Security leading to the achievement of the Sustainable Development Goals.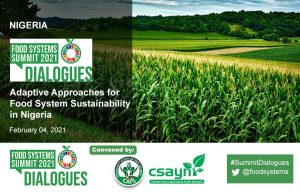 Créditos de la imagen: Community Action For Food Security (CAFS)