Comentarios oficiales del Diálogo para la Cumbre de las Naciones Unidas sobre los Sistemas Alimentarios de 2021
Última actualización:
Descargar PDF
Tipo de diálogo
Independiente
Convocado por
World Bank African Development Bank, African Development Institute, Regional Network of Agricultural Policy Research Institutes (ReNAPRI), Alliance for African Partnership, USAID, Board for International Food and Agricultural Development (BIFAD)
Idioma del Diálogo
English
Enfoque geográfico
No borders
Formato
Virtual
Por favor revise los detalles que encontrará más abajo para obtener información sobre cómo registrarse en el caso de que esté disponible o contacte al convocante si le gustaría asistir.
Descripción
Please join this panel presentation and open forum discussion as a side event to the U.N. Food Systems Summit Science Days. Leaders across the private and public research and development sectors identify and discuss the key actions needed to advance adaptive agricultural research and to develop an enabling policy environment to support the steady stream of technological innovations necessary for resilient and sustainable food systems. The discussion will review evidence of evolving economic transformation and progress towards resilience in sub-Saharan Africa from the Board for International Food and Agriculture Development (BIFAD)-commissioned Agricultural Productivity Growth, Resilience, and Economic Transformation in Sub-Saharan Africa report and the World Bank publication, Harvesting Prosperity: Technology and Productivity Growth in Agriculture. Together, panelists and participants will identify lessons learned from countries in which substantial investments in adaptive agricultural research and development and extension systems have shown the catalytic role of productivity-led agricultural growth in contributing to employment, resilience, and economic transformation.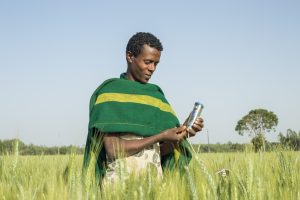 Créditos de la imagen: Photo courtesy of Maheder Haileselassie/IWMI, USAID Feed the Future Flickr