Comentarios oficiales del Diálogo para la Cumbre de las Naciones Unidas sobre los Sistemas Alimentarios de 2021
Última actualización:
Descargar PDF
Tipo de diálogo
Independiente
Convocado por
Center for support of indigenous peoples of the North (CSIPN) , Aborigen Forum
Idioma del Diálogo
Russian
Enfoque geográfico
Kyrgyzstan, Mongolia, No borders, Russian Federation, Tajikistan
Formato
Virtual
Por favor revise los detalles que encontrará más abajo para obtener información sobre cómo registrarse en el caso de que esté disponible o contacte al convocante si le gustaría asistir.
Administrador
Rodion Sulyandziga, director of the Center for support of indigenous peoples of the North (CSIPN)
Descripción
We, indigenous peoples of Russian Federation, Eastern Europe, Central Asia including Mongolia represent indigenous communities in our respective regions. Richness and diversity of our peoples include mosaic of cultural historical natural and linguistic landscapes.
We reaffirm our inherent rights as elaborated in the UN Declaration on the Rights of Indigenous Peoples, and emphasize our right to adequate food, a fundamental right to be free from hunger and to define our food security and food sovereignty.
Food insecurity has already been recognised as a global problem affecting the entire planet, efforts done so far are crucial, but insufficient. We need to rethink the strategies of action. The years to come and this year in particular are the time to make progress on sustainable food. Pandemic and a number of important high-profile events 2020/2021 have already placed matters of food high on the international agenda. Significantly, the strengths of our traditional food practices gain increasing attention and offer empowering alternatives to existing systems which are sound, healthy, nutritious, ecologically sustainable, diversified and self-determined.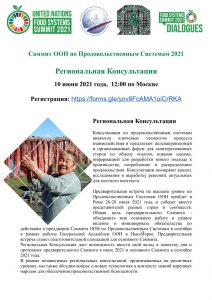 Créditos de la imagen: Center for support of indigenous peoples of the North (CSIPN)