Comentarios oficiales del Diálogo para la Cumbre de las Naciones Unidas sobre los Sistemas Alimentarios de 2021
Última actualización:
Descargar PDF
Tipo de diálogo
Estado miembro
Convocado por
Ministry of Agriculture, Fisheries, and Environment
Idioma del Diálogo
English
Formato
Presencial
Por favor revise los detalles que encontrará más abajo para obtener información sobre cómo registrarse en el caso de que esté disponible o contacte al convocante si le gustaría asistir.
Administrador
Anuradha Gupta, Ministry of Agriculture, Fisheries, and Environment
Descripción
 Food plays a big role on the tropical island of Palau. Food is used to strengthen relationships and connect families, welcome visitors and send off guests, and express Palauan culture and traditions. Also, like other Pacific islands, the modern world has complicated Palau's story with food. From a high prevalence of NCDs to preferences for unhealthy foods, Palau's food systems need a systemic, comprehensive response. This year's Dialogues offered an opportunity to apply a Systems Perspective to Palau's Blue and Green Food Systems.
Building on the findings of its biennial National Environmental Symposium, the National Food Systems Dialogue in Palau focused on pathways to sustainably increase production while positively influencing consumption, health, accessibility, and livelihood outcomes. Palau also used this year's Dialogue as an opportunity to fill gaps in understanding of its agricultural systems, which when combined with the nation's long-standing investments into sustainable Blue Food systems yielded a comprehensive understanding of Food Systems as a whole.
The three-part Dialogue mapped the agricultural food system and connected it to the extensive body of work on Blue Foods, identified challenges and options for sustainability, and sought high level government agreement for proposed pathways.
Agradecimiento
Palau's Food Systems Dialogues were first convened by the Bureau of Agriculture and then by a new Minister of the Ministry of Agriculture, Fisheries, and Environment (MAFE) at the request of the Ministry of State. This model was created through a partnership with Nutrition, Production, Economic and other Food System Stakeholders, MOS/Office of the VP, BOA, NEPC (MOF), MAFE EPCU (GEF6), Office of the UN Resident Coordinator, GEF SGP, and PCS.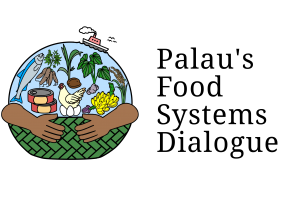 Créditos de la imagen: PICRC