Tipo de diálogo
Independiente
Convocado por
Elodie Tiossok (OCEANE Group)
Idioma del Diálogo
French and English
Enfoque geográfico
Cameroon
Formato
Presencial
Por favor revise los detalles que encontrará más abajo para obtener información sobre cómo registrarse en el caso de que esté disponible o contacte al convocante si le gustaría asistir.
Administrador
OCEANE Group
Descripción
Engaging women in the food systems value chain and encouraging sustainable agriculture within their communities in Bertoua towards enhancing the achievement of the Decade of Action by 2030.
Agradecimiento
Tiam Carletto (OCEANE Group), Foretia Divine (CSAYN), Full Gospel Mission Bertoua.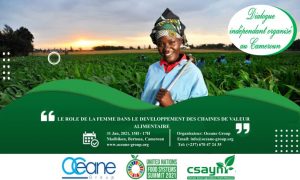 Créditos de la imagen: OCEANE Group