Tipo de diálogo
Independiente
Convocado por
Children and Youth Major Group of UNEP (Convenor), Co-Convenor include UN Environment Programme, HIRE Consult, Major Group for Children and Youth (Youth Focus Group to UNFSS)
Idioma del Diálogo
English
Enfoque geográfico
No borders
Formato
Virtual
Por favor revise los detalles que encontrará más abajo para obtener información sobre cómo registrarse en el caso de que esté disponible o contacte al convocante si le gustaría asistir.
Administrador
John Aggrey - Operations Facilitation (Communication), Children and Youth Major Group of UNEP
Descripción
International Youth Day is celebrated annually on 12 August to bring youth issues to the attention of the international community and celebrate the potential of youth as partners in today's global society. As such, in collaboration with the UN Environment Programme, Major Group for Children and Youth (Youth Focus Group to UNFSS) and HIRED Consult, the Children and Youth Major Group of UNEP is putting together a dialogue to amplify Youth Voices (activities, stories and inspirations) in support of the UN Food Systems Summit 2021.
The purpose of the dialogue is to identify and mobilize Youth globally on Environmental Issues, Ideas, and Solutions to Food Systems. Secondly,  it is organized to echo Youth Voices in the Environment space working on Food System activities/Projects.
REGISTER to join using https://bit.ly/Iyouthday2021
#YouthEnvironment #FoodSystems #IYD2021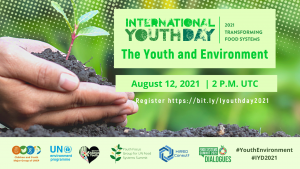 Créditos de la imagen: Sehaj Sahni and John Aggrey