Comentarios oficiales del Diálogo para la Cumbre de las Naciones Unidas sobre los Sistemas Alimentarios de 2021
Última actualización:
Descargar PDF
Tipo de diálogo
Independiente
Convocado por
Mr.Jude Ingeke ( Midland Company Ltd)
Idioma del Diálogo
English and French
Enfoque geográfico
Cameroon
Formato
Presencial
Por favor revise los detalles que encontrará más abajo para obtener información sobre cómo registrarse en el caso de que esté disponible o contacte al convocante si le gustaría asistir.
Administrador
Ntiokam Divine ( Founder and Managing GCSAYN and UNFSS Champion)
Descripción
The celebration will bring together the state, youths involved in
Agric-business, agricultural financiers, and institutions.
The UN organized a food system summit UNFSS 2021 in the month of July 2021 to discourse and explore difference approaches and innovations on sustainable development of food systems globally considering climate change in which Cameroon was represented and participated through the MINARD and GCSAYN officials.
Leveraging the momentum of the food security dialogue, the regional delegation of agriculture, in partnership with midland company ltd and GCSAN, the UN and FAO regional offices in the nearest future will convene a five -part independent summit dialogue series to give youths in the region an opportunity to designing climate-friendly food systems of the future, and to explore how they can work together to make the transformations happens.
Agradecimiento
Ntiokam Divine ( Founder and Managing GCSAYN, UNFSS Champion) and Ndzong Denis ( intern GCSAYN), Enoko Henry ( MIDLAND).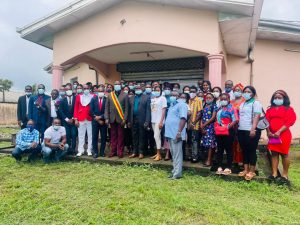 Créditos de la imagen: Enoko Henry (MIDLAND)