Comentarios oficiales del Diálogo para la Cumbre de las Naciones Unidas sobre los Sistemas Alimentarios de 2021
Última actualización:
Descargar PDF
Tipo de diálogo
Independiente
Convocado por
UNICEF Ethiopia Country Office
Idioma del Diálogo
Amharic and English
Enfoque geográfico
Ethiopia
Formato
Presencial
Por favor revise los detalles que encontrará más abajo para obtener información sobre cómo registrarse en el caso de que esté disponible o contacte al convocante si le gustaría asistir.
Administrador
Sinksar Simeneh ,Nutrition Specialist & Abiy Tefera Monitoring and Evaluation Specialist from UNICEF Ethiopia Country Office
Descripción
Poor diets drive malnutrition during childhood and adolescence. Today, millions of children are eating too little of what they need, and millions are eating too much of what they don't need: poor diets are now the main risk factor for the global burden of disease. Food systems are critical to delivering healthy, affordable, and sustainable diets to meet the nutritional needs of children and adolescents,yet our current systems are failing children.
The UN Secretary-General has called for a United Nations Food Systems Summit (UNFSS) to launch  bold new actions to transform the food systems and support environmental sustainability. Far too often, the interests of a very important group of people are left out of food systems analysis – children. This is a dangerous omission. UNICEF's Executive Director has committed to lead Food Systems Dialogues (FSDs) with school-age children and adolescents (10-19 years old) in at least 20 countries worldwide
Objective
Engage children and adolescents in the food systems discourse
Encourage children to express, in their own voice, how they experience and relate to food systems and food environments
Ensure children's experiences and reflections actively contribute to food system solutions
Agradecimiento
We would like to thank Federal Ministry of health, Federal Ministry of Education in Ethiopia, regional health and Education Bureau of Somali, SNNP regions and Diredawa City administration for unreserved support in setting up the dialogues. We also would like to acknowledge colleagues from UNICEF HQ and Ethiopia namely, Deepika Sharma, Arnaud Laillou, and Stanley Chitekwe and Collogues from Western Sydney University for the technical leadership. lastly but not least would like to acknowledge facilitators from UNICEF district offices and Abiy Tefera for leading the workshop facilitation in the three major cities where the workshop conducted.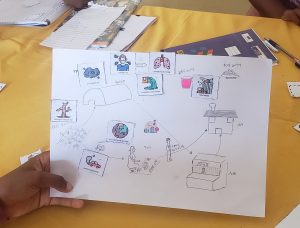 Créditos de la imagen: Sinksar Simeneh @UNICEF Ethiopia