Comentarios oficiales del Diálogo para la Cumbre de las Naciones Unidas sobre los Sistemas Alimentarios de 2021
Última actualización:
Descargar PDF
Tipo de diálogo
Independiente
Convocado por
Convenor-Dorothy Onoja Titilayo Founder/CEO, De Doronos-Jay Limited. Co-Convenor- John O. Ugwu Managing Director, JohnVirg Nigeria Limited. Jaaziah Ofukondu Onoja-Children and Youth Representative De Doronos-Jay Limited. Award winner IF.G Food UNFSS.
Idioma del Diálogo
English
Enfoque geográfico
Afghanistan, Albania, Belgium, Botswana, Brazil, Burkina Faso, Cambodia, Cameroon, France, Germany, India, Italy, Kenya, Mali, Mexico, Niger, Nigeria, No borders, Senegal, South Africa, United Kingdom of Great Britain and Northern Ireland, United States of America
Formato
Virtual
Por favor revise los detalles que encontrará más abajo para obtener información sobre cómo registrarse en el caso de que esté disponible o contacte al convocante si le gustaría asistir.
Administrador
Oyima Gabriel D. T. Miss, Board Member De Doronos-Jay Limited
Descripción
The program will focus on grassroot women Food Resilience and how to mitigate waste. It will include the following issues and highlights, but others.
1. How strong is the food tank and food production at the grassroot by women and youth girls? Their challenges, awareness, finances, rate of inclusion, challenges faced by women grassroot' smallholder farmers, the extent to which their voices are heard and how can it be heard. Hardship faced from herdsmen destruction etc.
2. Food Wastage in Nigeria generally and cases of food waste in other countries e.g America. The causes of food waste, the effects,  the vulnerable groups. How to mitigate it, importance, the resultant positive impact, and outcomes of the solutions.
3. How Covid-19 had lay bare or exacerbated the suffering of grassroot women and women smallholder farmers at the rural communities and other areas.
Agradecimiento
United Nations Food Systems Summit.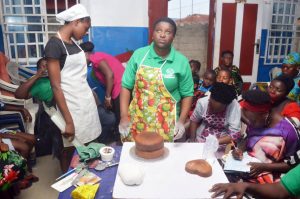 Créditos de la imagen: De Doronos-Jay Limited. Training Grassroots' Women on How to Prepare Safe Food for Consumption and for Commercial Purposes to Boost their Economic Empowerment.