Comentarios oficiales del Diálogo para la Cumbre de las Naciones Unidas sobre los Sistemas Alimentarios de 2021
Última actualización:
Descargar PDF
Tipo de diálogo
Estado miembro
Convocado por
Mr Jyri Ollila, National Convenor, Adviser at the Ministry of Agriculture and Forestry, Finland
Idioma del Diálogo
Finnish
Enfoque geográfico
Finland
Formato
Virtual
Por favor revise los detalles que encontrará más abajo para obtener información sobre cómo registrarse en el caso de que esté disponible o contacte al convocante si le gustaría asistir.
Administrador
Ms Aulikki Hulmi, Director for International Affairs, Ministry of Agriculture and Forestry
Descripción
The Dialogue meeting is opened by Dr Jaana Husu-Kallio, the Secretary General of the Ministry of Agriculture and Forestry together with Ms Elina Kalkku, State Under-Secretary at the Ministry of Foreign Affairs. There will be four introductory speeches: 1) on the FSS, 2) on the systems approach to food analysis, 3) on the European Policy Response to Food Systems and 4) on how Finland can contribute to Global Food Systems development.
The meeting is then divided into five working groups, according to the Action Tracks. The WGs will discuss 1) the strengths and weaknesses of the national food system, 2) how to improve the national food system on the way to 2030 and 3) what do we have to showcase for the global audience.
The WG chairs report on the discussion to the plenary session. A synthesis and the way forward is outlined by the curator.
Agradecimiento
Working Group Chairs: Ms Sanna-Liisa Taivalmaa (MFA), Dr Sirpa Sarlio (Min of Health and Soc. Affairs), Dr Kaisa Karttunen (E2 Consultancy), Prof Jyrki Niemi (LUKE Natural Resources Institute) and Prof Helena Kahiluoto (Lappeenranta University of Technology)).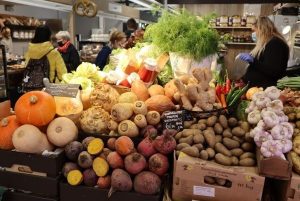 Créditos de la imagen: Ministry of Agriculture and Forestry, Finland