Comentarios oficiales del Diálogo para la Cumbre de las Naciones Unidas sobre los Sistemas Alimentarios de 2021
Última actualización:
Descargar PDF
Tipo de diálogo
Independiente
Convocado por
Nick Chisholm (University College Cork), Solange Cullen (University College Cork), Patrice Lucid (Irish Forum for International Agricultural Development - IFIAD)
Idioma del Diálogo
English
Enfoque geográfico
Ireland, No borders
Formato
Virtual
Por favor revise los detalles que encontrará más abajo para obtener información sobre cómo registrarse en el caso de que esté disponible o contacte al convocante si le gustaría asistir.
Descripción
The aim of this webinar is to discuss how programmes promoting women's empowerment can contribute to improved women's nutrition and health. The concept of nutritional empowerment as a method to identify barriers to increased nutrition will be presented. UCC has recently undertaken research in Tigray Region to measure economic and nutritional empowerment. The webinar will present findings from research and case studies from Irish and other NGOs undertaking projects focussed on women's empowerment. Discussion will explore lessons on programme design and implementation of development interventions which can simultaneously contribute to women's empowerment and food security and nutrition to insure a better future.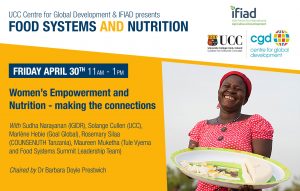 Créditos de la imagen: IFIAD