Compte-rendu officiel des Concertations pour le Sommet des Nations Unies sur les systèmes alimentaires 2021
Dernière mise à jour :
Télécharger le PDF
Type de Concertation
Indépendant
Coordonnateur
Nick Chisholm (University College Cork), Solange Cullen (University College Cork), Patrice Lucid (Irish Forum for International Agricultural Development - IFIAD)
Langue de l'événement de Concertation
English
Cible géographique
Ireland, No borders
Format
En ligne
Veuillez consulter les détails ci-dessous pour obtenir des renseignements sur l'inscription, s'ils sont disponibles, ou communiquer avec le coordonnateur si vous souhaitez y assister.
Description
The aim of this webinar is to discuss how programmes promoting women's empowerment can contribute to improved women's nutrition and health. The concept of nutritional empowerment as a method to identify barriers to increased nutrition will be presented. UCC has recently undertaken research in Tigray Region to measure economic and nutritional empowerment. The webinar will present findings from research and case studies from Irish and other NGOs undertaking projects focussed on women's empowerment. Discussion will explore lessons on programme design and implementation of development interventions which can simultaneously contribute to women's empowerment and food security and nutrition to insure a better future.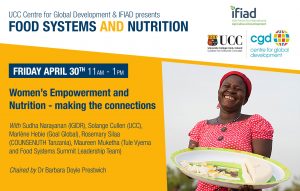 Crédit image : IFIAD