Comentarios oficiales del Diálogo para la Cumbre de las Naciones Unidas sobre los Sistemas Alimentarios de 2021
Última actualización:
Descargar PDF
Tipo de diálogo
Independiente
Convocado por
Dr. Glenn B. Gregorio, Director, Southeast Asian Regional Center for Graduate Study and Research in Agriculture (SEARCA)
Idioma del Diálogo
English
Ciudad
Sampaloc St., Los Baños 4031, Los Baños, Laguna, Philippines
Enfoque geográfico
Brunei Darussalam, Cambodia, Indonesia, Lao People's Democratic Republic, Malaysia, Myanmar, Philippines, Singapore, Thailand, Timor-Leste, Viet Nam
Formato
Virtual
Por favor revise los detalles que encontrará más abajo para obtener información sobre cómo registrarse en el caso de que esté disponible o contacte al convocante si le gustaría asistir.
Administrador
Dr. Dindo Campilan, Regional Director for Asia, International Union for Conservation of Nature (IUCN)
Descripción
In support of the Summit, the Southeast Asian Regional Center for Graduate Study and Research in Agriculture (SEARCA) is convening an Independent Dialogue on 18 May 2021 to discuss the transformations needed in education and research for higher education institutions in the region to achieve the desired goals.
SEARCA is one of the 27 specialist centers under the Southeast Asian Ministers of Education Organization (SEAMEO). Contributing to this UN Food Systems Summit, which provides an opportunity to unleash ambitious new actions, innovative solutions, and plans to transform our food systems and leverage these shifts to deliver progress across the SDGs, is also a step towards realizing SEARCA's current Five-Year Plan focusing on Accelerating Transformation Through Agricultural Innovation (ATTAIN).
Titled Breaking Silos: Transforming Agricultural Education and Research toward Sustainable Food Systems in Southeast Asia, this Dialogue intends to bring together participants from the youth sector, farmer federations, those in agro-industry, in government and in the academe to share evidences, experiences or new ideas, and plan to take action and to foster partnerships for implementing the identified action.
Specifically, the Dialogue seeks to respond to the following questions:
What new knowledge/research/policies in higher education are needed in the next decade to transform food systems?
What innovative pedagogies, methodologies, approaches, and ways would be more effective to disseminate knowledge/research results to a wider audience and to ensure transformations?
What governance strategies and policies, as well as strategic alliances, are needed to ensure a more holistic approach to science and research and higher education on food systems?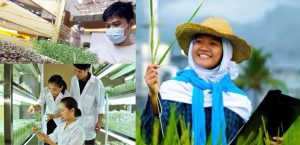 Créditos de la imagen: Kris R. Apostol, Anh Tuan, Yorri Farli (SEARCA Photo Contest)