Comentarios oficiales del Diálogo para la Cumbre de las Naciones Unidas sobre los Sistemas Alimentarios de 2021
Última actualización:
Descargar PDF
Tipo de diálogo
Estado miembro
Convocado por
Per Callenberg, State Secretary
Idioma del Diálogo
Swedish
Ciudad
Borgvägen 1, 115 53 Stockholm, Sweden
Formato
Virtual
Por favor revise los detalles que encontrará más abajo para obtener información sobre cómo registrarse en el caso de que esté disponible o contacte al convocante si le gustaría asistir.
Administrador
Jonathan Eng, Stockholm Environment Institute
Descripción
The food systems of today are affected by conflict, and environmental,
health and economic shocks and stresses. Bold action is urgently
needed to transform food systems to become sustainable and
resilient and recover from adverse effects.
During the dialogue knowledgeable speakers will share their
perspectives. This will be followed by a workshop in line with the
official Food Systems Dialogue methodology where participants will
have the opportunity to share their knowledge, thoughts and ideas for
change in an open and welcoming space. Speakers include;
Amir Abdulla, Deputy Executive Director, UN World Food Programme (WFP)
Georges Bazongo, Director of operations, Tree Aid, Burkina Faso
Janine Alm Ericson, State Secretary to the Minister for International Development
Cooperation at the Swedish Ministry for Foreign Affairs
Dan Smith, Director, Stockholm International Peace Research Institute (SIPRI)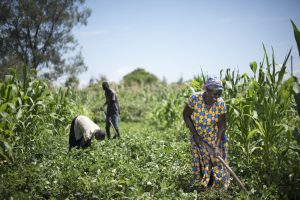 Créditos de la imagen: Photo: WFP/ Hugh Rutherford.