Comentarios oficiales del Diálogo para la Cumbre de las Naciones Unidas sobre los Sistemas Alimentarios de 2021
Última actualización:
Descargar PDF
Convocado por
Special Envoy of the Food System Summit Dr. Kalibata, Special Envoy for the Ocean Peter Thomson, Friends of Ocean Action, UN Foundation and Norway
Idioma del Diálogo
English
Enfoque geográfico
No borders
Formato
Virtual
Por favor revise los detalles que encontrará más abajo para obtener información sobre cómo registrarse en el caso de que esté disponible o contacte al convocante si le gustaría asistir.
Administrador
David Nabarro, 4SD
Descripción
This event is both part of the Virtual Ocean Dialogues and a Global Dialogue for the UN Food System Summit. It is being co-convened by Special Envoy of the Food System Summit Dr. Kalibata, Special Envoy for the Ocean Peter Thomson, FOA, UN Foundation, and Norway.
Aquatic/blue foods play a vital role within food systems but are often missing from the conversation. This event aims to address that. A healthy ocean means healthy people – the ocean and other aquatic ecosystems are fragile but have the potential to be pillars of local food systems if those systems are transformed to be more sustainable, nature-positive and accessible. It is vital that food systems allow access to sufficient, safe and nutritious foods which meet the dietary needs and food preferences of a growing population in the face of climate change. The interconnection between land and ocean food production is also too often ignored when thinking about food system transformation. The UN Food Systems Summit provides an opportunity to address these gaps and develop solutions for feeding the world through systems that are good for the land, good for the climate, and good for the ocean.
This event will be in two parts:
A livestreamed virtual panel discussion on Tuesday 25th May at 12pm CEST.
A lively virtual Global Dialogue on Friday 28th May at 2.30pm CEST.
If requiring further details, please remember to include your email address when submitting your request.  Many thanks.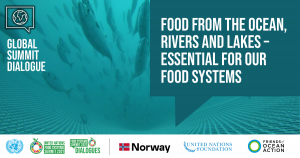 Créditos de la imagen: Institute of Marine Research – Havforskningsinstituttet