Comentarios oficiales del Diálogo para la Cumbre de las Naciones Unidas sobre los Sistemas Alimentarios de 2021
Última actualización:
Descargar PDF
Tipo de diálogo
Estado miembro
Convocado por
His Excellency Sok Silo, Secretary General, Council for Agricultural and Rural Development.
Idioma del Diálogo
Khmer (with simultaneous translation in English (and one break out room in English)
Ciudad
Phnom Penh, Cambodia
Enfoque geográfico
Cambodia
Formato
Virtual
Por favor revise los detalles que encontrará más abajo para obtener información sobre cómo registrarse en el caso de que esté disponible o contacte al convocante si le gustaría asistir.
Administrador
His Excellency Say Ung, Advisor and Director of the Department of Food Security and Nutrition and Health, CARD
Descripción
This event will be an opportunity for the ministries and institutions of the Royal Government of Cambodia to propose potential commitments for the transformation of the food system to support sustainable development in Cambodia by 2030.  The suggestions from various ministries will be integrated with the action tracks for the National Roadmap for Food Systems for Sustainable Development 2030.  Other stakeholders will have the opportunity to suggest how their plans align with the commitments proposed by ministries. The support for the proposals and the prospects for game changing activities will be explored in discussions with all participants.
Agradecimiento
The Council for Agricultural and Rural Development, participating Line Ministries and Institutions of the Royal Government and the SUN Movement in Cambodia.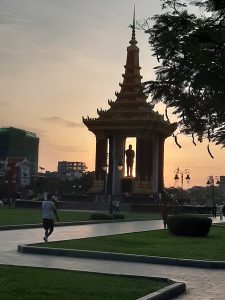 Créditos de la imagen: @FAO Cambodia