Официальная обратная связь диалога для Саммита ООН по продовольственным системам 2021 года
Последнее обновление:
Загрузить PDF
Виды диалогов
Государства-члена
Организатор
His Excellency Sok Silo, Secretary General, Council for Agricultural and Rural Development.
Язык диалога
Khmer (with simultaneous translation in English (and one break out room in English)
Дата/время
Начало
Окончание
Город
Phnom Penh, Cambodia
Формат
Онлайн
Просьба ознакомиться с приводимыми ниже данными для получения регистрационной информации, если таковая имеется, или обратитесь к руководителю диалога, если желаете принять участие.
Куратор
His Excellency Say Ung, Advisor and Director of the Department of Food Security and Nutrition and Health, CARD
Описание
This event will be an opportunity for the ministries and institutions of the Royal Government of Cambodia to propose potential commitments for the transformation of the food system to support sustainable development in Cambodia by 2030.  The suggestions from various ministries will be integrated with the action tracks for the National Roadmap for Food Systems for Sustainable Development 2030.  Other stakeholders will have the opportunity to suggest how their plans align with the commitments proposed by ministries. The support for the proposals and the prospects for game changing activities will be explored in discussions with all participants.
Благодарности
The Council for Agricultural and Rural Development, participating Line Ministries and Institutions of the Royal Government and the SUN Movement in Cambodia.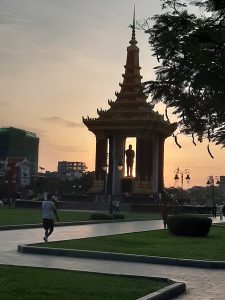 Изображение: @FAO Cambodia