Comentarios oficiales del Diálogo para la Cumbre de las Naciones Unidas sobre los Sistemas Alimentarios de 2021
Última actualización:
Descargar PDF
Tipo de diálogo
Independiente
Convocado por
Food Systems for the Future, The Eleanor Crook Foundation, Rabobank, Global Alliance for Improved Nutrition, Partnership for a Healthier America, The International Fund for Agricultural Development, Scaling up Nutrition, and The Annenberg Foundation Trust
Idioma del Diálogo
English
Enfoque geográfico
No borders
Formato
Virtual
Por favor revise los detalles que encontrará más abajo para obtener información sobre cómo registrarse en el caso de que esté disponible o contacte al convocante si le gustaría asistir.
Descripción
United Nations Food Systems Summit Dialogues offer a purposeful and organized forum for stakeholders to come together to share their roles in food systems, consider their impacts on others and find new ways to come together in support of the Sustainable Development Goals.
With engagement from financial institutions, foundations, and investors, and entrepreneurs, this multi-stakeholder dialogue will identify and discuss the top barriers to private capital investments in nutrition, as well as explore and develop new solutions for increasing the capital investments across the food system. Participants will discuss the need for innovative financial products, prioritizing nutrition impact as well as how to achieve adequate financial return.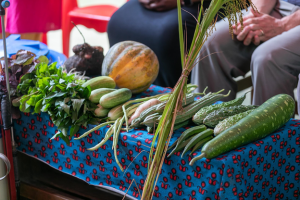 Créditos de la imagen: Care/ Jeremy Mines