Comentarios oficiales del Diálogo para la Cumbre de las Naciones Unidas sobre los Sistemas Alimentarios de 2021
Última actualización:
Descargar PDF
Tipo de diálogo
Independiente
Convocado por
Sabdiyo Dido - Head of Gender and Inclusiveness (AGRA) Betty Otieno - Gender Coordinator (AGRA)
Idioma del Diálogo
English
Enfoque geográfico
No borders
Formato
Virtual
Por favor revise los detalles que encontrará más abajo para obtener información sobre cómo registrarse en el caso de que esté disponible o contacte al convocante si le gustaría asistir.
Administrador
Vanessa Adams - VP Strategic Partnerships, and COP Partnership for Inclusive Agricultural Transformation in Africa (AGRA)
Descripción
The Alliance for Green Revolution in Africa (AGRA), IFPRI and partners will host an Independent African Dialogue of the UN Food Systems Summit to discuss and harness lessons on catalyzing women's agripreneurship and food trade in Africa. This Dialogue is unique in that it is based on 11 country consultations of women agripreneurs, local partners and government agencies, conducted under AGRAs VALUE4HER women in agribusiness platform. The Dialogue will consolidate the voices of women agripreneurs and food commodity traders in sub Saharan Africa, while the emerging insights, opportunities and solutions will contribute to defining and or refining game-changing solutions for enabling women agri-preneurship and food trade in Africa.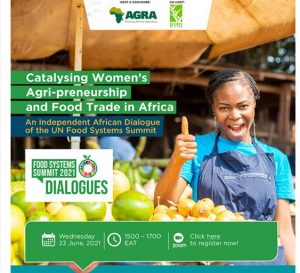 Créditos de la imagen: AGRA