Official Dialogue Feedback to the United Nations 2021 Food Systems Summit
Last updated:
Download PDF
Type of Dialogue
Independent
Convened by
Sabdiyo Dido - Head of Gender and Inclusiveness (AGRA) Betty Otieno - Gender Coordinator (AGRA)
Language of Dialogue Event
English
Geographical focus
No borders
Format
Online
Please review the details below for registration information if available or contact the Convenor if you would like to attend.
Curator
Vanessa Adams - VP Strategic Partnerships, and COP Partnership for Inclusive Agricultural Transformation in Africa (AGRA)
Description
The Alliance for Green Revolution in Africa (AGRA), IFPRI and partners will host an Independent African Dialogue of the UN Food Systems Summit to discuss and harness lessons on catalyzing women's agripreneurship and food trade in Africa. This Dialogue is unique in that it is based on 11 country consultations of women agripreneurs, local partners and government agencies, conducted under AGRAs VALUE4HER women in agribusiness platform. The Dialogue will consolidate the voices of women agripreneurs and food commodity traders in sub Saharan Africa, while the emerging insights, opportunities and solutions will contribute to defining and or refining game-changing solutions for enabling women agri-preneurship and food trade in Africa.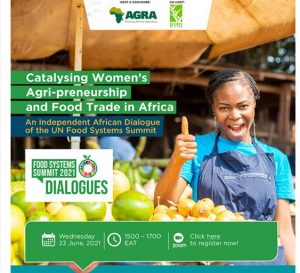 Image credit: AGRA