Comentarios oficiales del Diálogo para la Cumbre de las Naciones Unidas sobre los Sistemas Alimentarios de 2021
Última actualización:
Descargar PDF
Tipo de diálogo
Independiente
Convocado por
Omved Gardens and Chefs' Manifesto
Idioma del Diálogo
English
Ciudad
Omved Gardens, Townsend Yard, London N6 5JF, UK
Enfoque geográfico
United Kingdom of Great Britain and Northern Ireland
Formato
Virtual
Por favor revise los detalles que encontrará más abajo para obtener información sobre cómo registrarse en el caso de que esté disponible o contacte al convocante si le gustaría asistir.
Administrador
Arthur Potts Dawson (Omved Gardens) & Paul Newnham (Chefs Manifesto)
Descripción
This Dialogue was be preceded by a webinar event on 22nd June 2021. For recording, please visit here.
The triple burden of malnutrition – undernutrition, hidden hunger and overweight – threatens the survival, growth and development of children and young people worldwide. Well-nourished children are better able to grow, learn, participate in their communities and be resilient in the face of adversity. It is vital that health policy and practice recognise the distinct needs and ensure that services are tailored to meet the changing needs of young people. Investing in the learner now is an investment in the future.
• In the UK, 1 in 4 school pupils aged 11-15 are obese
• Teenagers consume on average 8 times the recommended daily sugar allowance
• Only 1 in 12 young people aged 11-18 eat five portions of fruit and vegetables every day
• Approximately 36,000 children and young people under 19 have diabetes in the UK
• London has more overweight and obese children than any other global city
• Poor children are more likely than better off children to suffer from poor health as a result of food insecurity.
• Worldwide, 38.2 million children under the age of 5 years were overweight or obese in 2019 and the prevalence of over overweight among children and adolescents aged 5-19 has risen dramatically from just 4% in 1975 to just over 18% in 2016.
We will make an ambitious projection 10 years into the future; a future where good food for all children and youth has been prioritised, where the food system works for the benefit of all children and families are empowered to demand affordable nutritious food. A future where children and youth are engaged in their own health and nutrition and the result is reduction in non-communicable diseases of future generations.
How do we manifest this ambitious future food system? What actions are needed? Who will need to be involved and where do we need to focus our efforts? Your ideas and participation are vital to bring about food system change – join us on 13th July to have your ideas heard about how we can feed all children better.
This Dialogue will be UK focussed but there will also be an international global focussed group.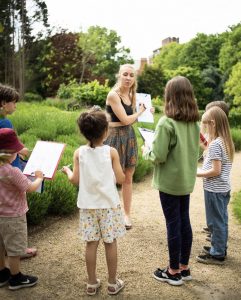 Créditos de la imagen: Omved Gardens