Comentarios oficiales del Diálogo para la Cumbre de las Naciones Unidas sobre los Sistemas Alimentarios de 2021
Última actualización:
Descargar PDF
Tipo de diálogo
Independiente
Convocado por
Raúl Montiel Calderón, MY World México Ambassador and CEO of GreenPretzel
Idioma del Diálogo
Español
Ciudad
Pachuca, Hgo., Mexico
Formato
Virtual
Por favor revise los detalles que encontrará más abajo para obtener información sobre cómo registrarse en el caso de que esté disponible o contacte al convocante si le gustaría asistir.
Administrador
Hiram Salomón Guzmán, Director of the Social Innovation and Food Security Center
Descripción
Organized by MY World México, GreenPretzel and the Social Innovation and Food Security Center, our independent dialogue aims to involve actors from a wide set of sectors from farmers to local authorities, from activists to corporate associations, to discuss the challenges and opportunities around advancing the sustainability of local food systems in the next 10 years.
Topics:
1. Food and nutrition education.
2. Peasants and food producers as a fundamental link in food systems.
3. Supply, demand and distribution of local food.
4. Innovation processes in food production.
5. Diversity and gender perspective in food systems.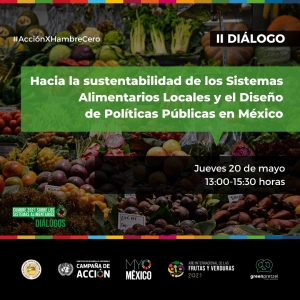 Créditos de la imagen: MY World México