Comentarios oficiales del Diálogo para la Cumbre de las Naciones Unidas sobre los Sistemas Alimentarios de 2021
Última actualización:
Descargar PDF
Tipo de diálogo
Estado miembro
Convocado por
Mr. Alisher Shukurov, Advisor to the Minister of Agriculture of Uzbekistan
Idioma del Diálogo
Uzbek, English, Russian
Enfoque geográfico
Uzbekistan
Formato
Presencial
Por favor revise los detalles que encontrará más abajo para obtener información sobre cómo registrarse en el caso de que esté disponible o contacte al convocante si le gustaría asistir.
Administrador
Mr. Tulkin Farmonov, Director of the Research Institute of Agricultural and Food Economics of Uzbekistan
Descripción
THEMATIC DISCUSSIONS:
1. Ensure access to safe and nutritious food for all; 1st group facilitator
2. Shift to sustainable consumption patterns; 2nd group facilitator
3. Boost nature-positive production; 3rd group facilitator
4. Advance equitable livelihoods; 4th group facilitator
5. Build resilience to vulnerabilities, shocks and stress. 5th group facilitator
Agradecimiento
Mr. Sabir Khazhametov, Deputy Chairman of the Council of Ministers of the Republic of Karakalpakstan on agriculture and water issues; Mr. Simon Hacker, Strategic Planning officer/RCO Team Leader; Mr. Sherzod Umarov, Assistant FAO Representative in Uzbekistan; Mr. Bakhadur Paluaniyazov, Environment and Climate Action Cluster Leader.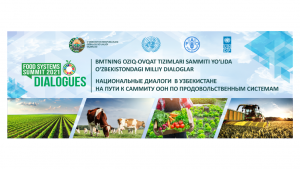 Créditos de la imagen: UNDP Uzbekistan