Official Dialogue Feedback to the United Nations 2021 Food Systems Summit
Last updated:
Download PDF
Type of Dialogue
Member State
Convened by
Mr. Alisher Shukurov, Advisor to the Minister of Agriculture of Uzbekistan
Language of Dialogue Event
Uzbek, English, Russian
Geographical focus
Uzbekistan
Format
In-person
Please review the details below for registration information if available or contact the Convenor if you would like to attend.
Curator
Mr. Tulkin Farmonov, Director of the Research Institute of Agricultural and Food Economics of Uzbekistan
Description
THEMATIC DISCUSSIONS:
1. Ensure access to safe and nutritious food for all; 1st group facilitator
2. Shift to sustainable consumption patterns; 2nd group facilitator
3. Boost nature-positive production; 3rd group facilitator
4. Advance equitable livelihoods; 4th group facilitator
5. Build resilience to vulnerabilities, shocks and stress. 5th group facilitator
Acknowledgement
Mr. Sabir Khazhametov, Deputy Chairman of the Council of Ministers of the Republic of Karakalpakstan on agriculture and water issues; Mr. Simon Hacker, Strategic Planning officer/RCO Team Leader; Mr. Sherzod Umarov, Assistant FAO Representative in Uzbekistan; Mr. Bakhadur Paluaniyazov, Environment and Climate Action Cluster Leader.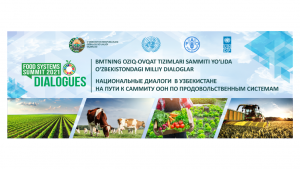 Image credit: UNDP Uzbekistan