Tipo de diálogo
Independiente
Convocado por
Dr. Anne Ness, DNP, RN, PHN, Alliance of Nurses for a Healthy Environment, and East Philips Neighborhood Institute Urban Farm Project
Idioma del Diálogo
English
Ciudad
Minneapolis, MN, USA
Enfoque geográfico
No borders
Formato
Virtual
Por favor revise los detalles que encontrará más abajo para obtener información sobre cómo registrarse en el caso de que esté disponible o contacte al convocante si le gustaría asistir.
Descripción
Environmental racism is the root cause of suffering where city planners design low income neighborhoods to be toxic dumping grounds where low income and BIPOC people live with polluted air and soil.
Poverty and discrimination can be overturned by collectively owned farms that supply healthy food to help our bodies detoxify.
Community control of neighborhoods leads to more equity and justice.
Agradecimiento
Thanks to Shantrice Martin, #feedthewest and Black Market KY, Dr. Monica Unseld, PhD, Until Justice Data Partners, Lake Street Truth Collective, St. Catherine University Global Public Health Program, the Minnesota Public Health Association, Acumen Designing for Sustainability and Social Impact classmates Colin Pieske, Jane Sullivan and Bruna Aristizabal.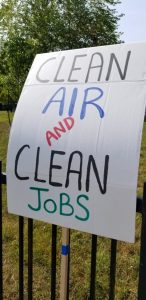 Créditos de la imagen: https://www.eastphillipsneighborhoodinstitute.org/goals/