Comentarios oficiales del Diálogo para la Cumbre de las Naciones Unidas sobre los Sistemas Alimentarios de 2021
Última actualización:
Descargar PDF
Tipo de diálogo
Estado miembro
Convocado por
Mr Guy Pierre Morel
Idioma del Diálogo
English
Ciudad
Latanier Rd, Seychelles
Enfoque geográfico
Seychelles
Formato
Presencial
Por favor revise los detalles que encontrará más abajo para obtener información sobre cómo registrarse en el caso de que esté disponible o contacte al convocante si le gustaría asistir.
Administrador
Mr Guy Pierre Morel
Descripción
Growing the domestic capacity and capability to produce more farm commodities; the destination, the barriers and the critical success factors.
Agradecimiento
Seychelles Agricultural Agency.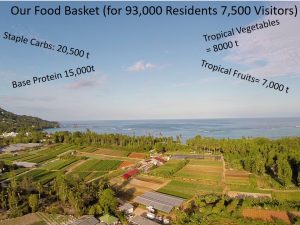 Créditos de la imagen: Geffroy's Farm