Tipo de diálogo
Independiente
Convocado por
ACHALE ARRAH N. MARVIS ( GCSAYN STAFF) AND PRINCE JUSTIN ( CEO Union Farms of Africa )
Idioma del Diálogo
English , Pidgin and French
Enfoque geográfico
Cameroon
Formato
Presencial
Por favor revise los detalles que encontrará más abajo para obtener información sobre cómo registrarse en el caso de que esté disponible o contacte al convocante si le gustaría asistir.
Administrador
NDZONG DENIS (GCSAYN INTERN) AND ENOKO HENRY ( MIDLAND COMPANY Ltd)
Descripción
CIVIL WARS AND CONFLICTS HAVE INCREASED MARKEDLY IN THE PAST DECADES , LEADING TO RECENT REVERSE OF A STEADY TREND TOWARDS REDUCING HUNGER. THEY TOOK THEIR HEAVIEST TOOLS ON RURAL COMMUNITIES ENGAGED IN AGRICULTURE.MAIZE, CASSAVA TUBERS , COCOA AND COFFEE OUTPUT HAS FALLEN IN CAMEROON ESPECIALLY IN THE NORTH WEST AND SOUTH WEST REGION RELATIVELY TO ABOUT 35%. AGRICULTURE LOSSES DUE TO CONFLICT NOTABLY OUTSTRIP INTERNATIONAL DEVELOPENT ASSISTANCE.
WE THEREFORE EXPECT TO ENGAGE YOUTH, WOMEN AND PERSONS LIVING WITH DISABILITIES WITH SUPPORT FROM THE RURAL OR COMMUNITY LEADERS TO STEP UNEMPLOEYMENT RATE , ENHANCE FOOD SECURITY AND STABILITY WITHIN THE UNSTABLE REGIONS . THEREBY SAVING LIVES , PROTECTING FOOD SYSTEMS , PROTECTING ASSETS AND BUILDING RESILIENCE IN THE MIDST OF CONFLICT AND SEEKING ALWAYS TO ADVANCE SUSTIANBLE DEVELOPMENT AND POVERTY REDUCTION.
Agradecimiento
Ntiokam Divine ( Founder and Managing Director GCSAYN and UNFSS Champion).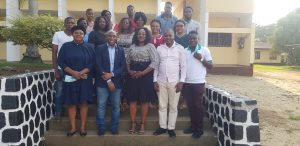 Créditos de la imagen: ENONKO HENRY ( MIDLAND SALES AND MARKETING MANAGER)