Организатор
ACHALE ARRAH N. MARVIS ( GCSAYN STAFF) AND PRINCE JUSTIN ( CEO Union Farms of Africa )
Язык диалога
English , Pidgin and French
Дата/время
Начало
Окончание
Формат
Очный
Просьба ознакомиться с приводимыми ниже данными для получения регистрационной информации, если таковая имеется, или обратитесь к руководителю диалога, если желаете принять участие.
Куратор
NDZONG DENIS (GCSAYN INTERN) AND ENOKO HENRY ( MIDLAND COMPANY Ltd)
Описание
CIVIL WARS AND CONFLICTS HAVE INCREASED MARKEDLY IN THE PAST DECADES , LEADING TO RECENT REVERSE OF A STEADY TREND TOWARDS REDUCING HUNGER. THEY TOOK THEIR HEAVIEST TOOLS ON RURAL COMMUNITIES ENGAGED IN AGRICULTURE.MAIZE, CASSAVA TUBERS , COCOA AND COFFEE OUTPUT HAS FALLEN IN CAMEROON ESPECIALLY IN THE NORTH WEST AND SOUTH WEST REGION RELATIVELY TO ABOUT 35%. AGRICULTURE LOSSES DUE TO CONFLICT NOTABLY OUTSTRIP INTERNATIONAL DEVELOPENT ASSISTANCE.
WE THEREFORE EXPECT TO ENGAGE YOUTH, WOMEN AND PERSONS LIVING WITH DISABILITIES WITH SUPPORT FROM THE RURAL OR COMMUNITY LEADERS TO STEP UNEMPLOEYMENT RATE , ENHANCE FOOD SECURITY AND STABILITY WITHIN THE UNSTABLE REGIONS . THEREBY SAVING LIVES , PROTECTING FOOD SYSTEMS , PROTECTING ASSETS AND BUILDING RESILIENCE IN THE MIDST OF CONFLICT AND SEEKING ALWAYS TO ADVANCE SUSTIANBLE DEVELOPMENT AND POVERTY REDUCTION.
Благодарности
Ntiokam Divine ( Founder and Managing Director GCSAYN and UNFSS Champion).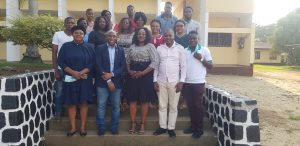 Изображение: ENONKO HENRY ( MIDLAND SALES AND MARKETING MANAGER)