Tipo de diálogo
Independiente
Convocado por
Mr. Winston Changulo, Chairperson Taita Taveta Youth Alliance
Idioma del Diálogo
English and Swahili
Formato
Virtual
Por favor revise los detalles que encontrará más abajo para obtener información sobre cómo registrarse en el caso de que esté disponible o contacte al convocante si le gustaría asistir.
Administrador
Eng. Nick Mwadime, SG Taita Taveta Youth Alliance
Descripción
Act with Urgency
We recognise the utmost urgency of sustained and meaningful action at Taita Taveta to reach the respective 2030 Sustainable Development Goals.
In light of this urgency, this Dialogue is organized as a contribution to the Food Systems Summit and to the elaboration of pathways to food systems transformation contributing to the 2030 Agenda for Sustainable Developmen
Agradecimiento
Mr. Nick Mwadime, SG TTYA. Ms. Delina Mijide, Head of Programs TTYA. Mr. Boniface Maina, Head of Finance and Planning TTYA, Mr. John Mwadime, Head of PR and Communication TTYA.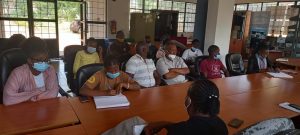 Créditos de la imagen: Head of PR and Communication TTYA