بدعوة من
Mr. Winston Changulo, Chairperson Taita Taveta Youth Alliance
لغة فعالية الحوار
English and Swahili
نطاق التركيز الجغرافي
Kenya
التنسيق
على الإنترنت
يُرجى مراجعة التفاصيل أدناه للحصول على معلومات التسجيل إذا كانت متوفرة أو الاتصال بمنظم الحوار إذا كنت ترغب في الحضور.
القيّم
Eng. Nick Mwadime, SG Taita Taveta Youth Alliance
الوصف
Act with Urgency
We recognise the utmost urgency of sustained and meaningful action at Taita Taveta to reach the respective 2030 Sustainable Development Goals.
In light of this urgency, this Dialogue is organized as a contribution to the Food Systems Summit and to the elaboration of pathways to food systems transformation contributing to the 2030 Agenda for Sustainable Developmen
الشكر والتقدير
Mr. Nick Mwadime, SG TTYA. Ms. Delina Mijide, Head of Programs TTYA. Mr. Boniface Maina, Head of Finance and Planning TTYA, Mr. John Mwadime, Head of PR and Communication TTYA.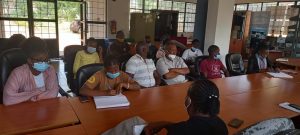 مصدر الصورة: Head of PR and Communication TTYA