Comentarios oficiales del Diálogo para la Cumbre de las Naciones Unidas sobre los Sistemas Alimentarios de 2021
Última actualización:
Descargar PDF
Tipo de diálogo
Independiente
Convocado por
PAN AFRICAN AGRIBUSINESS AND AGROINDUSTRY CONSORTIUM/AGRA/AUDA-NEPAD
Idioma del Diálogo
ENGLISH
Enfoque geográfico
No borders
Formato
Virtual
Por favor revise los detalles que encontrará más abajo para obtener información sobre cómo registrarse en el caso de que esté disponible o contacte al convocante si le gustaría asistir.
Administrador
LUCY MUCHOKI PAN AFRICAN AGRIBUSINESS AND AGROINDUSTRY CONSORTIUM
Descripción
African MSMEs Independent Dialogue on Food Systems Summit seeks to:
Mobilize MSMEs from different sectors and across the continent to generate current perspectives, aspirations and ambitions, and map the general trends, institutional, structural and policy bottlenecks impeding the functionality and viability of MSMEs in Africa
Harvest and recommend key promising and emerging solutions that will fast-track required changes in the Food Systems in Africa
Plug MSMEs synthesis insights into the ongoing discourse to frame and position issues in pursuit of sustainable and inclusive food systems within the goals and targets set in Agenda 2063 and Agenda 2030
Contribute to Africa's Common Position on transformative agenda on the UN Food Systems
Contribute new perspectives and options to the Agenda 2063 and CAADP Malabo Declaration Biennial Reviews.
Agradecimiento
LUCY MUCHOKI BOAZ BLACKIE.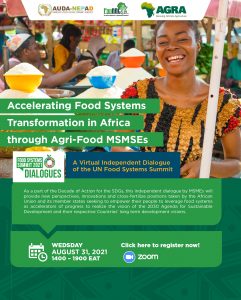 Créditos de la imagen: AGRA