Official Dialogue Feedback to the United Nations 2021 Food Systems Summit
Last updated:
Download PDF
Type of Dialogue
Independent
Convened by
PAN AFRICAN AGRIBUSINESS AND AGROINDUSTRY CONSORTIUM/AGRA/AUDA-NEPAD
Language of Dialogue Event
ENGLISH
Geographical focus
No borders
Format
Online
Please review the details below for registration information if available or contact the Convenor if you would like to attend.
Curator
LUCY MUCHOKI PAN AFRICAN AGRIBUSINESS AND AGROINDUSTRY CONSORTIUM
Description
African MSMEs Independent Dialogue on Food Systems Summit seeks to:
Mobilize MSMEs from different sectors and across the continent to generate current perspectives, aspirations and ambitions, and map the general trends, institutional, structural and policy bottlenecks impeding the functionality and viability of MSMEs in Africa
Harvest and recommend key promising and emerging solutions that will fast-track required changes in the Food Systems in Africa
Plug MSMEs synthesis insights into the ongoing discourse to frame and position issues in pursuit of sustainable and inclusive food systems within the goals and targets set in Agenda 2063 and Agenda 2030
Contribute to Africa's Common Position on transformative agenda on the UN Food Systems
Contribute new perspectives and options to the Agenda 2063 and CAADP Malabo Declaration Biennial Reviews.
Acknowledgement
LUCY MUCHOKI BOAZ BLACKIE.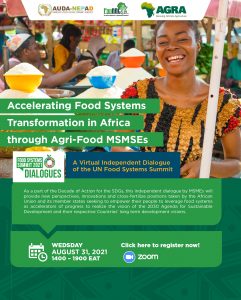 Image credit: AGRA