Comentarios oficiales del Diálogo para la Cumbre de las Naciones Unidas sobre los Sistemas Alimentarios de 2021
Última actualización:
Descargar PDF
Tipo de diálogo
Independiente
Convocado por
International Development Law Organization (IDLO)
Enfoque geográfico
Burkina Faso, Mali, Niger
Formato
Virtual
Por favor revise los detalles que encontrará más abajo para obtener información sobre cómo registrarse en el caso de que esté disponible o contacte al convocante si le gustaría asistir.
Administrador
Mr. Ousmane Seye, IDLO Regional Manager Sahel
Descripción
The Dialogue "The Rule of Law and Food Systems Transformation in The Sahel: Addressing the conflict-climate-food security nexus" will explore how current rule of law and governance gaps in the Sahel undermine efforts to enhance nutrition and fuel the root causes of food insecurity, in light of the most pressing constraints in the region: climate change, access to land and other natural resources, and conflicts. These include, for instance, the limited success of State and traditional institutions in ensuring equal access to land and other natural resources and providing effective and accessible dispute resolution pathways, with tensions escalating into violent conflict.
The Dialogue aims to:
Identify ongoing rule of law initiatives to face main challenges affecting food systems and security in the Sahel, mainly land and soil degradation, low agriculture productivity, high prices, low employment opportunities, banditry, cattle theft, attacks on roads and markets, as well as illegal detention and other injustices committed by state agents.
Highlight priority areas, concrete actions and alliances for practitioners and stakeholders in the region to promote and strengthen a rule of law-based governance of food systems.
Explore how the criminal justice consultation frameworks can be used as a platform to enhance coherence among policies, laws and regulations related to food systems and to strengthen institutional capacities for the effective, accountable, transparent and just implementation.
Register here: https://zoom.us/meeting/register/tJwode-prTooGtGvrzQxdLAFJ1PalULm0XqM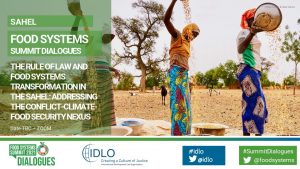 Créditos de la imagen: Photo credit: © Giles Clarke/UNOCHA