Tipo de diálogo
Independiente
Convocado por
Blue Food Assessment & Environmental Defense Fund
Idioma del Diálogo
English
Enfoque geográfico
No borders
Formato
Virtual
Por favor revise los detalles que encontrará más abajo para obtener información sobre cómo registrarse en el caso de que esté disponible o contacte al convocante si le gustaría asistir.
Descripción
The Blue Food Assessment, a partnership with Stanford University, EAT and Stockholm Resilience Centre, along with the Environmental Defense Fund (EDF) is collaborating with global, national and local partners in a series of thematic dialogues on blue foods. Collectively the dialogues will advance the discussions and contribute to the Summit by:
 identifying, reviewing and filling important gaps in our understanding of the role of blue/aquatic foods in global food systems now and in the future.
informing and propeling change in the policies and practices that will shape decisions which impact the future of food.
If you and/or your organisation, community or business would like to partner and engage in this kick off dialogue, or would be interested in organising similarly themed dialogues in this space, please contact:
Aman Sidhu, Policy Advisor, Blue Food Assessment [email protected]
*Please note this first event is invite-only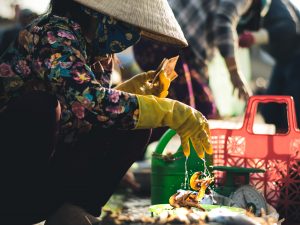 Créditos de la imagen: Photo by Ameya Sawant on Unsplash