Type of Dialogue
Independent
Convened by
Blue Food Assessment & Environmental Defense Fund
Language of Dialogue Event
English
Geographical focus
No borders
Format
Online
Please review the details below for registration information if available or contact the Convenor if you would like to attend.
Description
The Blue Food Assessment, a partnership with Stanford University, EAT and Stockholm Resilience Centre, along with the Environmental Defense Fund (EDF) is collaborating with global, national and local partners in a series of thematic dialogues on blue foods. Collectively the dialogues will advance the discussions and contribute to the Summit by:
 identifying, reviewing and filling important gaps in our understanding of the role of blue/aquatic foods in global food systems now and in the future.
informing and propeling change in the policies and practices that will shape decisions which impact the future of food.
If you and/or your organisation, community or business would like to partner and engage in this kick off dialogue, or would be interested in organising similarly themed dialogues in this space, please contact:
Aman Sidhu, Policy Advisor, Blue Food Assessment [email protected]
*Please note this first event is invite-only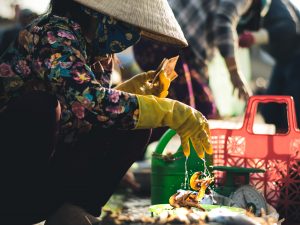 Image credit: Photo by Ameya Sawant on Unsplash